It is as new, produced September 23,1996, never been registred and has all the options I ever would want, a total of 21 ! This is a list of the accessories taken from the Customer Order Specifications : Spoiler Style Lid, 3rd Brake light in spoiler lid, Two-Tone color coordinated, Stone Protector (Bra), Lightbar bumper, Full Interior Carpet, Luggage Rack, Daytona Wing for Luggage Rack, Garment Bag, Map & Document Pouch, Large Storage Pouch, Mag Wheels, Mag Hubcaps, Interior Light, Cooler Package, Chrome Chassis Neck, Chrome Retractable Tongue Stand and Hitch Pin Adaptor (locking)

Empty Weight: 125 lbs. (52 Kg.) GAWR: 350 lbs. (145,8 Kg.)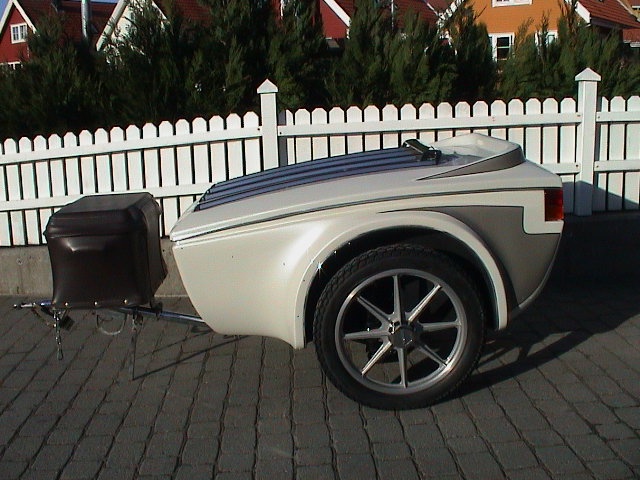 After it was painted , not exactly 100 % match to 1989 PC 800 colors, I sold it in June 2002. Why ?.... because I found this one for sale on a auction site in Germany and bought it and collected it there in July 2002....
a 1998 model Bushtec Genesis, "the Lexus of trailers"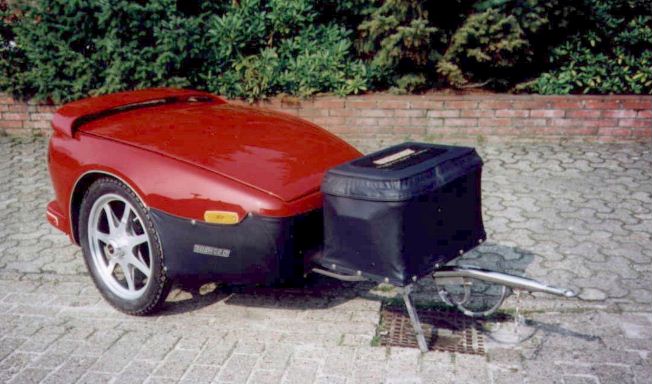 this one is a bit larger than the Turbo II, but sleeker and I think it fits the shape of the PC 800 better.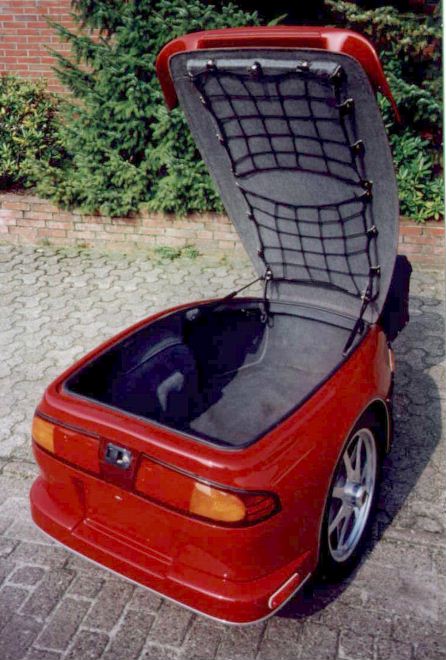 I have finally found a 100 % match of the 89 PC 800 colors, so it will be painted a.s.a.p. !! It is nice in 98 Honda GW candy spectra red too though !! I have also installed a Electrical Connections remote controled camber adjuster so the wheels can be aligned when riding...just pushing one button for letting air out and another button for inflate the suspension.... Link: http://electricalconnection.com